They chose us
Get a glimpse at the 3M GSC experience from the people that live it every day and bring its stories to life. They chose us for a reason and we do not feel that we are in a place to tell you why, we believe that they should.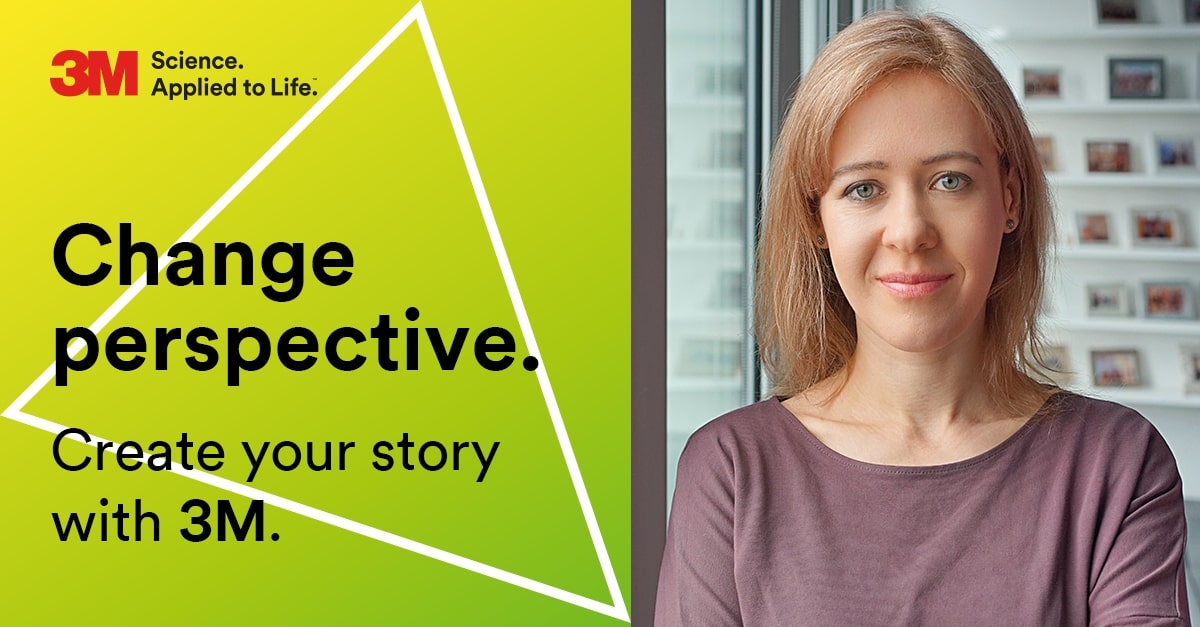 At 3M, we focus on people and their development
Here at 3M, I am a Team Manager in Digital Marketing, which is one of the teams within the Customer Operations area. I joined the team back in 2019 and I noticed straight from the very start of my work that this is a company where people are really important. As a result, we find ourselves working in a very friendly working environment. At 3M, I appreciate the diversity, as well as the innovative approach and technology we use for our daily work in CO.
 My role in Customer Operations
Prior to joining the Customer Operations team, I used to work in the marketing areas at other companies, where I handled both traditional and digital marketing.
Here at 3M, I am responsible for the Digital Marketing team (within Customer Operations), which is dedicated to a variety of matters such as creating and managing 3M website projects, creating automated marketing campaigns in the EMEA region, e-commerce syndication, creating digital product catalogs, as well as ensuring the accuracy of product data, which is made available on 3M websites.
Interestingly, within the Digital Marketing area, we have implemented a work system based on an Agile approach – in my personal opinion, this is a truly great value for our organization, because agile remains a non-standard in the marketing area.
Furthermore, I am currently involved in running a pilot for a new team that will ultimately be the first line of contact for customers.
A well-organized work environment
Organizing the work environment is just another strong point of 3M. What do I mean by that? We operate according to clearly defined ISO standards, which organize our processes, procedures and, consequently, our work. We operate on the basis of Lean Management and provide added value through Six Sigma projects.
This is essential in such a complex organization, especially in a department such as Customer Operations – the multitude of processes and tasks drives us to continuously improve the system of our daily operations. Personally, this bears another value that is essential for me – we have a real impact on the company we work for, which is certainly one of the most significant core features of 3M.
Support and personal growth
At 3M, we focus on the personal development of our employees, due to which the management supports everyone in improving their competencies right from the very start. Willingness, commitment and openness to development are enough.
What's unique in Customer Operations is the fact that cross-disciplinary departments – specialists from various fields – meet within one structure. This allows us to exchange knowledge, inspire and motivate each other to develop. In my team, you can spread your wings in terms of "agile" digital marketing project skills, as well as delve into different areas of digital marketing, including automated marketing, 3m.com websites, product information management, e-channel syndication and you can gain experience on how marketing processes work in a global organization. In addition to that, everyone learns project management, continuous process improvement, as well as improving language skills and soft skills – confidence, openness and communication skills.
Join us and become a 3Mer
Our onboarding plan helps you familiarize yourself with the organization, with operations, and systems. Right from the very start, everyone receives support and a real chance to get to know the company.
In Customer Operations, within the Digital Marketing team, a person who is open to being in an international environment and is prepared for changes will do best. It is also important to have an attitude for teamwork and a joint strive for success. The key factor will of course be a passion for any area of digital marketing, and analytical skills. Due to the fact that we work in an international environment, knowledge of English will also be sought.
Here at 3M, we are open to the uniqueness of others. If you feel that it's time for another professional challenge, you are open-minded and committed, and on top of it all you have great communication skills and knowledge of foreign languages – apply for a position at 3M, Customer Operations and join our team of 3Mers!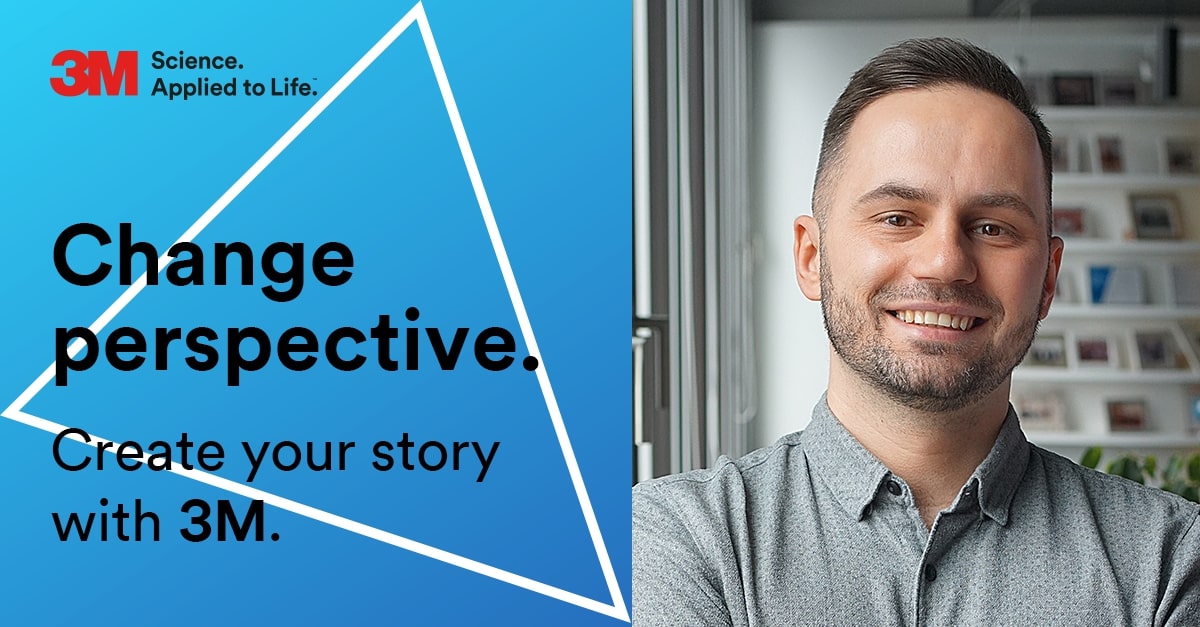 We Focus on Talent Development at 3M
Here at 3M, I work in the team responsible for handling electronic customer orders. However, my job is defined primarily by the role of Team Coordinator, meaning that I am responsible for the people in my team. Together, we set priorities and divide tasks, while I monitor their work and make sure that the goals we set are achieved on time. I really appreciate working with people, that's why I believe that I have really found myself in this role.
Growth and my Career Path
Prior to joining 3M, I had been gaining experience within another Shared Service Center, in an international corporation from the financial industry. After a few years, I decided to take part in the recruitment process for 3M GSC and this is how I ended up in the PHIM (Phase in Maintenance) team, where I took the position of a process analyst, where I dealt mainly with processes implemented in SAP. Later on, in 2019, I moved to the EPOP team, where I also held the position of analyst. However, from the very beginning, I knew that I would like to develop myself on a path of leadership – that's why it was six months later that I took part in a recruitment and have been chosen for the position of Team Coordinator.
In the meantime, I was able to develop in other areas as well – I have already divided my working time into the role of an analyst, as well as a member of the internal CSR department since 2017. Moreover, it was only a year later that I became a leader of this area in 3M GSC. I truly consider this a valuable experience that undoubtedly influenced my development and sense of self-realization.
The Benefits of Working at 3M
In my work at 3M I value the very extensive training system. It is built on our internal database of numerous external and internal training sessions which each of us is able to use to develop our competencies. In addition, working in a diverse business environment is also a huge advantage of working at 3M. I have daily contact with people from different countries, thanks to which I can learn and get to know a variety of diverse cultures. It's both surprising and fascinating – we speak the same language, but we have different attitudes and working styles, something that is amazing to experience every day!
Talent Development
Within 3M, we all work as a team with a common goal. We identify with the company and are driven by team spirit, yet we maintain our unique talents at the same time. In addition to that, it's the leader's job to quickly identify the strengths of his or her employees and create platforms for development tasks – this is an important aspect for us all here at 3M. Each one of us can also expect and rely on regular feedback and a transparent appraisal system, which greatly facilitates the improvement of competencies and skills.
Join the 3Mers Team
If you feel that it is time for you to start a new stage in your professional life, you speak English fluently, and you are open to work in an international organization – apply for a position in Customer Operations. This is a cross-disciplinary department where you can be certain of finding a development area for yourself, and where we will help you define and improve your strongest points. Here at 3M, we are open to diversity and value commitment above all else. If our values speak to you, join the 3Mers team!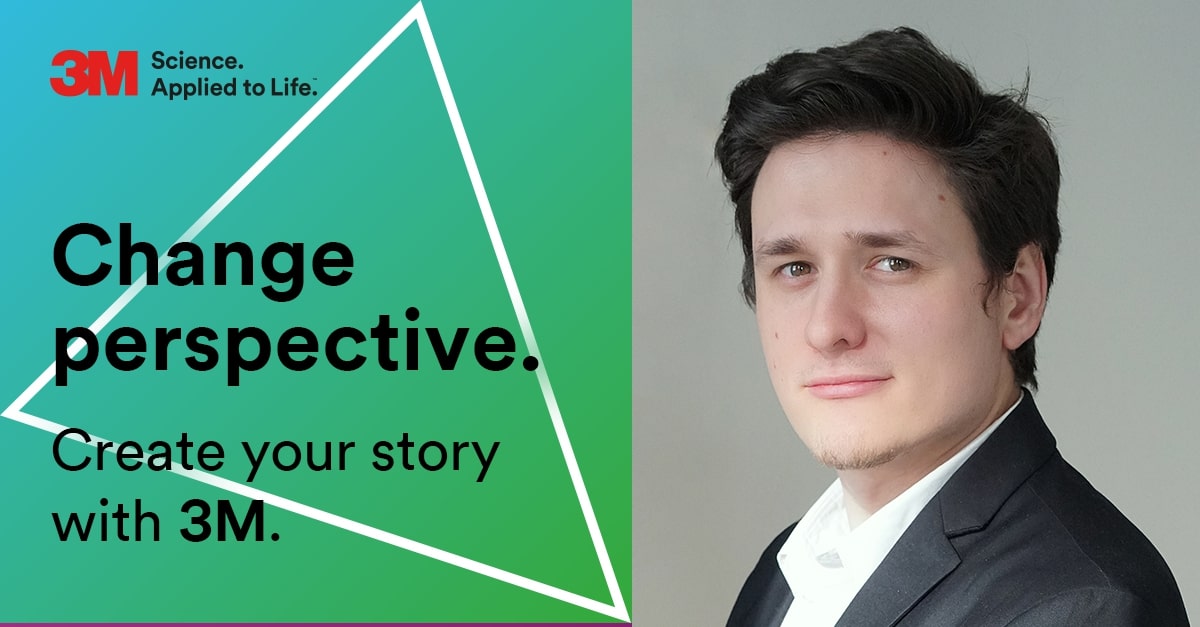 3M Is Work Comfort and Continuous Development
Integration, family values and balance – this is how I could summarize my first impressions of working at 3M. It is a company for which employees are of utmost importance. Each of us is able to develop by working in an international business environment while cooperating and networking with inspiring people.
3M and my Career Path
My role at the company is Electronic Data Interchange Analyst – I analyze and monitor orders that come into our system. On the other hand, I am also responsible for finding and defining errors that occur during order entry into the system. Here at 3M, I get used to improving my analytical thinking and ability to make proper diagnoses and solve problems, which makes it a very satisfying job for me.
Prior to that, still within 3M, I worked in the Hire to Retire (HTR) department, where I dealt with matters related to human resources and recruitment. Today I combine my experience from both IT and HR, thanks to which I am able to see everything in a slightly broader context. Such clarity is essential and very helpful in my day-to-day work.
Comfort and a Sense of Empowerment
When I think about the few years that I have spent at 3M up to now, I can't help but think of it as a work environment that has given me great mental comfort. Such solace naturally stems from many factors such as job stability. However, in my mind, it's a more complex matter. One important component of this comfort is the fact that I have the opportunity to develop and constantly improve my skills and competencies. I feel like I'm not standing still, and that's very important to me. Besides, 3M also fosters family values, which holds just as much importance to me as well.
Efficient internal communication is also a big plus – it's a very important area in the organization, which we constantly improve. It gives me the certainty that I participate in the life of the company, making me feel that I am a part of a larger, diverse team that we all create together. Moreover, as employees, we have a great influence on the culture in our organization – feedback from employees is important for their superiors, and our ideas are very often implemented.
Growth within Customer Operations
CO is a very large department in which everyone is able to find a development area for themselves. From my perspective, I can say that among the skills one can develop within CO include are analytical skills, as well as the ability to select suitable solutions to specific problems. Apart from that, everyone can improve their knowledge of various tools and systems, automation solutions, and of course, language competencies.
Who will be the best fit in here? I think everyone can give Customer Operations a try – a comprehensive onboarding program and training will allow anyone to gain the knowledge they need to do their job effectively. All you really need is openness, knowledge of English, as well as a proactive attitude.
If you feel that it is time for a change in your professional life and in case you have something in mind in regards to your development – apply to CO and join our team – shift your perspective and create your own story at here at 3M!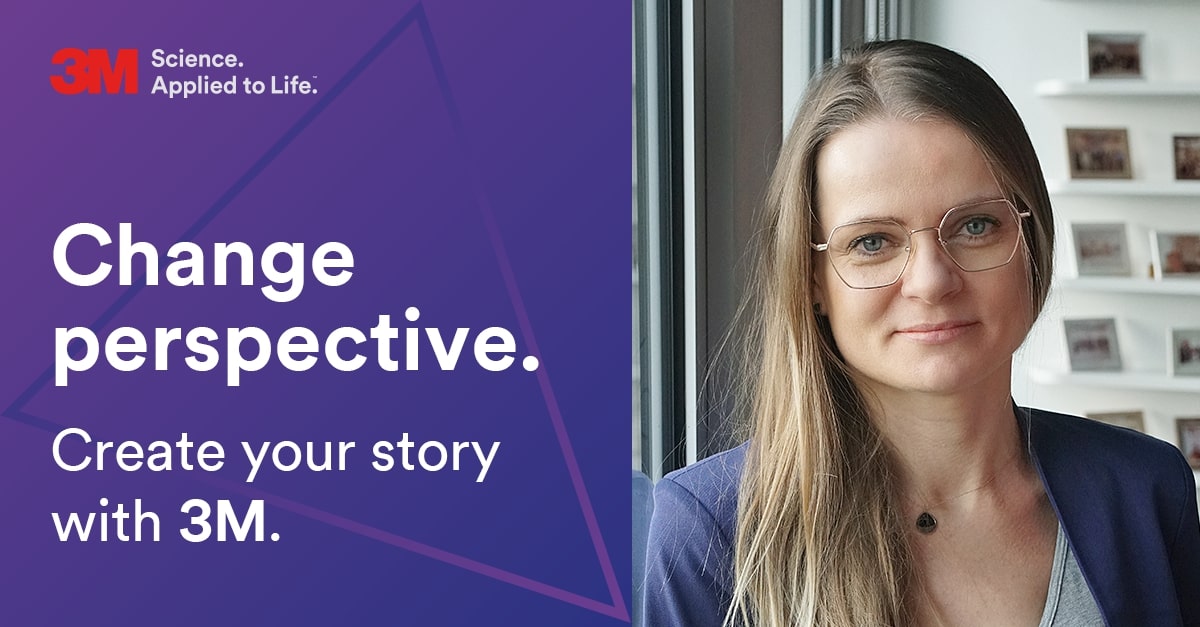 At 3M, I am right where I am supposed to be
I have been working at 3M for nearly five years now. Currently as Team Manager in the Customer Operations department, I am developing in the area where I feel proud, confident, and strong. Most of all, this is a place where I have the pleasure of working with people that share a sense of sincerity, humor, and a desire for constant improvement.
I build processes and assemble teams
My day-to-day work falls under the umbrella of Customer Services – a smaller division within the Customer Operations department. As a Team Manager, I am responsible for building the structure of the organization which supports all operations and processes related to orders and customer service. I am also responsible for establishing a background for seamless order processing in our system. Furthermore, I also assemble high-performing, self-organizing teams which subsequently support further processes within Customer Services.
My path of development at 3M
I first began my career in order management and customer communication in a manufacturing company, eventually supporting the entire supply chain. Thanks to my extensive experience with SAP, I started my career at 3M as an IT SAP Specialist, which proved to be quite convenient for me. However, as time went by I started to miss the direct contact with people and customers I previously had. Consequently, when 3M GSC needed to create an EDI (Electronic Data Interchange) team in the Customer Service area, I knew it was the right opportunity for me. I had a useful business background and I was passionate about excelling in management as well, which meant only one thing: This was the perfect place for me!
Focus on customer needs
Customer Services within Customer Operations are primarily concerned with supporting processes directly related to customers – processes that enable effective sales of 3M products. By working here, you are able to acquire a very in-depth and comprehensive knowledge of B2B customer service and business analytics. You will also gain excellent awareness of business flows, learn customer focus, as well as develop sales service skills.
3M is a large organization that provides assistance in developing the competencies needed to work effectively in any given department. We are able to consistently improve our skills in the areas we work in. All it takes is self-awareness, as well as notion and idea for your own development.
Seekers of answers
People with experience in back office order processing, finance and customer service will be the most suitable in Customer Operations. Knowledge of European languages is also essential. Apart from that, we want the new hire to be eager to learn, as well as be open to new challenges, because that is who we are – 3Mers are not afraid to ask questions and seek the answers for them.
Curiosity drives growth
3M is an international working environment, thanks to which I am provided with the opportunity to be in constant contact with people from numerous different cultures. Such experience is extremely valuable to me – constant cooperation with such a variety of diverse individuals and personalities satisfies my need to get to know the world and its people.
If you are open to new challenges, speak foreign languages, and possess great communication skills – you will definitely find your fit in our Customer Operations team.
Apply and join the 3Mers team.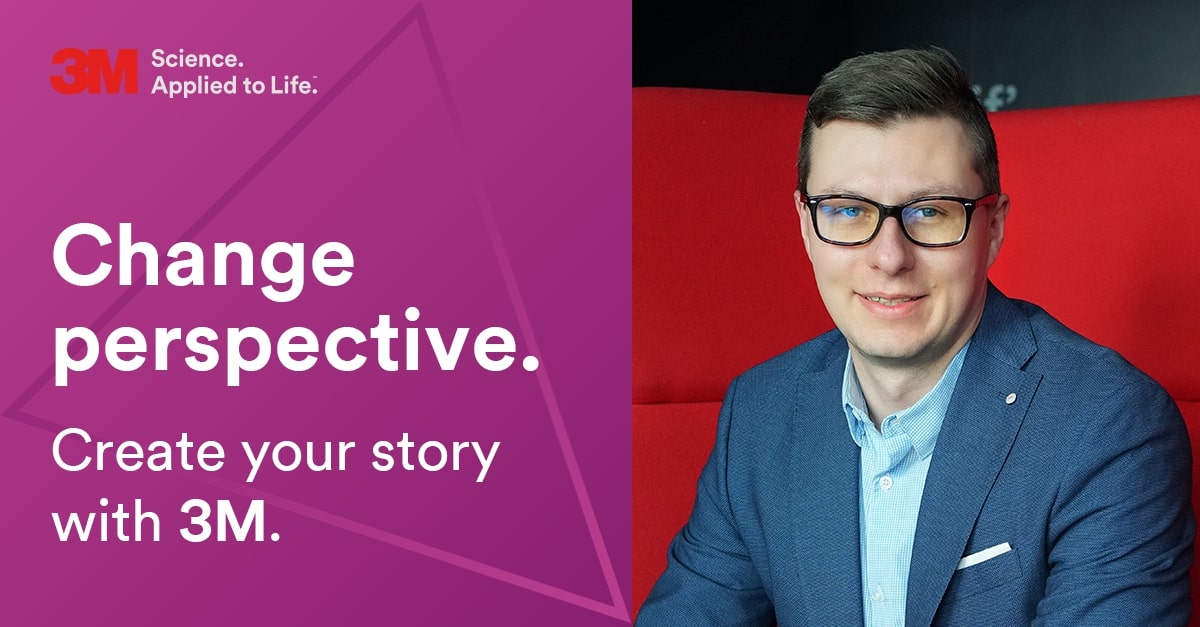 The Greatest Value of Working at 3M is the People
Prior to joining 3M, I had heard a lot of positive feedback – at the time I was working for another international company. When the Wroclaw branch was launched, I knew that I would like to start the next stage of my career there. Now that I have already been working at 3M GSC for a year, I can say that I still hear very similar opinions – people know our brand, company and products, and 3M has a lot of prestige in the Wroclaw market.
I am currently managing a team in the Customer Operations department, a large and rapidly growing department at 3M GSC where everyone can spread their wings – all you need is openness, commitment and a proactive attitude.
3Mers' Greatest Strength
The company has developed a friendly corporate culture and maintains a very positive atmosphere – people are happy, everyone can feel heard and be treated fairly. One of the things I like most about my job is the opportunity to work with people. Every day starts with a team meeting, and throughout the day we are given even more opportunities to network and do things together.
In the beginning of my career at 3M, I led a team in Customer Operations that directly supported the United States. I use that experience 100 percent now – there are two other teams within CO under my supervision. I am fortunate that I have always had, and still have, the opportunity to work with people that I simply really like, which are friendly, open and positive. What is important is that people at 3M do not lack the willingness and openness to change the company's reality. Moreover, a great advantage of working at 3M is also the diversity – there is no place for any kind of discrimination.
Organization of Work at 3M
Prior to joining the team at the company, I had heard many good things about the company. Today, I can say that all the opinions I encountered then were true. I appreciate 3M for its technological advancement and work organization. I can maintain my work-life balance with ease – I can effortlessly separate the time I devote to work from the time I devote to my family and private life. I don't experience stress, which is quite common in a corporate environment.
What else is worth mentioning? Our quality management system. We are an ISO 9001:2015 certified entity, which means that all processes are properly "laid out" and all procedures are understood. As long as time is monitored, every task can be completed smoothly.
Importantly, process improvement is important for all of us. That is why every day, as part of lean six sigma, we make some changes that allow us to continuously improve procedures. This is a very important part of our work and our common goal as it makes everything less complicated and even more functional.
Openness and Multiculturalism – An International Environment
Working with the English language is my everyday life. And without a shadow of a doubt I can say that this is also a very strong point of working at 3M for me. On the one hand I have the opportunity to constantly develop my language skills, on the other hand I have the pleasure to work with people from different parts and cultures of the world. We discuss business topics, talk about updates and plans on a European scale, or about changes from our customers' perspective. It's a really fascinating experience!
Development in Customer Operations
Working in Customer Operations is all about diversity. We have many teams in our department and everyone is able to find something for themselves. You can learn a lot, because we work both with systems that are also in use in other companies, as well as some that are only operational here – this is another area for development.
The most suitable person in my department will be someone with an analytical mind who can see connections between relevant facts. Lack of experience in working with systems is not a problem – proper training solves it and of course we provide it.
There are plenty of opportunities in Customer Operations for all those who want to grow. All you need is a proactive attitude and a willingness to get involve. Should a candidate happen to have an idea for themselves, we will provide opportunities for them to make it happen. We also cannot overlook soft skills and the ability to present one' s self or transfer knowledge. We emphasize on know-how transfer and involve people in training others.
If you are aware of your plans and career goals, speak English, and are open to learning and working in a diverse team – a job in Customer Operations at 3M GSC is just the thing for you.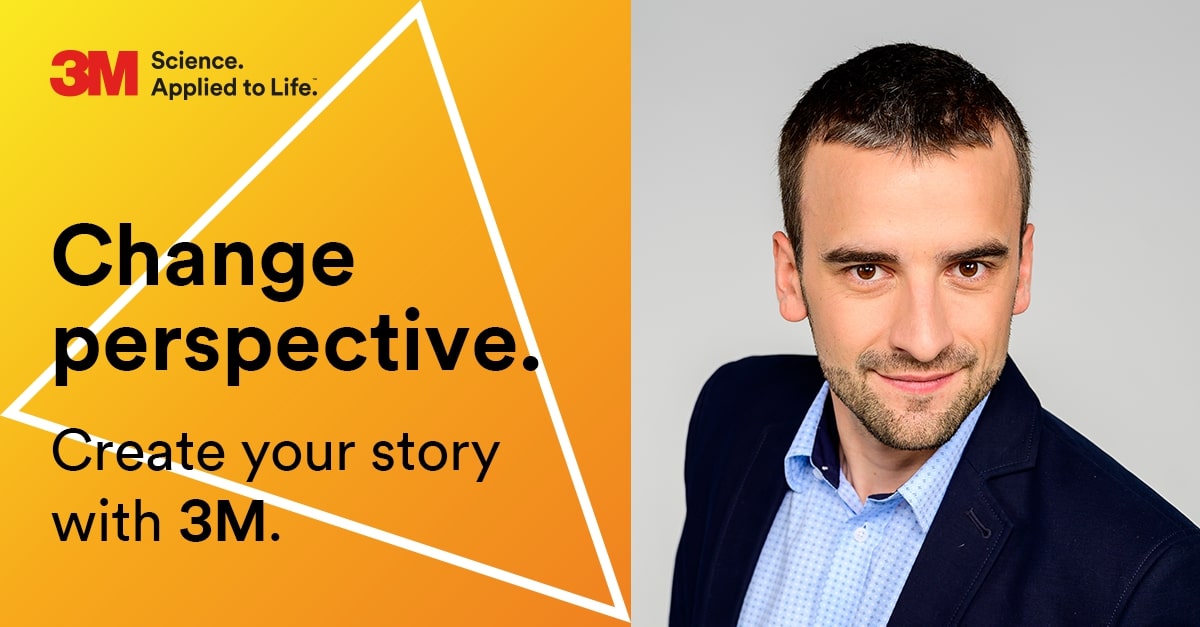 3M is about Limitless Opportunities for Growth
I have been working at 3M for over four years now. I am currently a Senior Team Leader in the Customer Operations team, although I started my career at 3M in an operations role. A lot has changed since then! As an organization we are gaining more and more experience in direct contact with customers and I have to say that I am very happy with how our center is growing. We are learning to be even more open and flexible, which I personally value very much. Moreover, thanks to working with people in an international environment, we have the opportunity to improve our language skills every day as well.
My own career path
One of the perks of working at 3M is being able to fully control and direct your own career path. Each one of us has their own goals to strive for, yet we also share mutual team goals. It's us, the employees, who create our own development paths within the company – with the full support of managers and supervisors, of course. What I like about 3M is that when it comes to improving soft and hard skills, you can count on the support of the management, which is able to advise you and show you the right direction in terms of training. Everyone can feel cared for in this respect – regardless of their seniority in the company.
Boosting the power of Customer Operations
At 3M GSC, we feature at least three paths for development. One can develop towards being an expert in a chosen process – this is a path focused on developing technical skills. Another path consists of development towards becoming a future team coordinator or manager – here we put most emphasis on developing soft skills to support other employees in the team you are supposed to lead. The third path is the development towards managing your own project – everyone can submit their ideas for developing a new area or a specific innovation. This is a major strength of our company because as employees we can feel heard and sense that we have a real impact on development within 3M.
Commitment and influence for change within the company
What I value most in the people I work with is their attitude for change and development. As a Senior Team Leader, I try to create a mindset of improvement in people, and thanks to that they return the favour with their engagement. Innovation is a vital part of working at 3M, and we all understand that. We have common goals in this area, to which we aspire. The company encourages ideas and is open to suggestions for improving processes and procedures. This makes me feel that we all have a real influence on change.
Beginning a 3M adventure in Customer Operations
I have been recruiting for the Costumer Operations team for over 2 years now. It gives me the opportunity to encounter new perspectives, different people and distinct characters. In the forthcoming recruitment process, soft skills will be most important to me, especially openness and the ability to establish interpersonal relationships with a positive attitude. Knowledge of foreign languages – English and an additional European language at B2 level – will also be crucial.
The new team will have the opportunity to witness the development of our area, and what's more – they will have the chance to co-create it, thanks to which they will gain new knowledge and meet people from all over Europe in a fairly short time.
Each new 3M employee will certainly make use of their experience from previous jobs and significantly develop it within the Customer Operations structure. People with experience in transit can also join us, but it is not a mandatory condition – a lot depends on the attitude and willingness to act.
People with less professional experience will also find their place at 3M. All you need is openness, communication skills, commitment, and knowledge of foreign languages. Thanks to these qualities everyone will be able to spread their wings in Customer Operations!
3M is Diversity, Networking, and Dynamic Growth
Here at 3M, I am responsible for leading the Customer Operations department, which supports all customer services. My team consists of nearly 300 people, divided into four areas: customer support, digital marketing, marketing process support, and sales process support. Here, I have the great pleasure to work every day with people who share openness, a positive attitude, and the willingness to learn.
The Beginning of My Adventure with 3M
Back in 2015, when I had first joined 3M GSC, our company was still a startup. My career started within one of the first groups to open a center. At that time, I was working as a Master Data manager, and my task consisted of building a team with which we were to go through the SAP implementation in 3M's European structures together.
A year later, I was approached to lead a new pilot team – our goal was to test the central model for the department that handles operations for customers and to verify the benefits for the company.
We have been successively expanding our portfolio of processes and projects since 2016, while the Customer Operations department has also been growing very rapidly, making this an area that, in itself, provides many opportunities to expand competences and acquire new skills.
Customer Operations in Depth
Working in Customers Operations consists of handling processes related to the broadly understood customer service. We are divided into four smaller teams, which are responsible for particular areas: digital marketing, customer service, marketing process support and sales process support.
The Digital Marketing department deals mainly with creating advertising campaigns, as well as designing and supporting websites. Whereas, the Customer Service department supports customers in handling their orders in our system. On the other hand, the Sales Operations team is primarily responsible for managing and developing customer databases, while the Marketing Operations team is responsible for price management in the EMEA region.
Customer Operations is composed of a team of great specialists, willing to network and share their knowledge, All the more reason why working with them brings me genuine pleasure.
The Benefits of Working at 3M
One of the most important advantages of working here at 3M is definitely the high dynamism. The company is a meeting place for people from different cultures, who also have different experiences and outlooks on the world and differ in many ways, enabling each one of to bring something unique to the organization. Here at 3M, we share our experiences and broaden our horizons together every day.
Furthermore, Customer Operations is quite a complex department – with a large number of processes and areas of activity. However, that makes is a diverse, constantly evolving work environment that I really appreciate.
Another significant advantage of working at 3M is the possibility to work in an international environment – I have the possibility improve my language skills and exchange knowledge with people from different parts of the world every day.
Something that I also appreciate in my work is the fact that we, as employees, have a real impact on everything that happens in the company. Each of us can propose ideas and innovations that the company listens to and analyzes. On top of that, our ideas are actually very often implemented.
3Mers' Development
Working in the cross-functional environment that 3M provides enables us to acquire many soft skills. We learn how business works on a daily basis by developing a strong design and cross-disciplinary competences. Moreover, we also invest heavily in forward-thinking roles of the future, such as innovations in digital marketing.
Language skills are also a crucial competence that we are able to improve. Those who want to develop in this direction can take courses and then use the skills they have acquired in their daily work with customers. This is an essential part of our work.
The Potential of Working at 3M
People who are not afraid of challenges and like to have a say in how their work is done will find a place and thrive at 3M. It is always good to have an open mind and not be afraid to ask questions. People who like working in a large team will also find their place within 3M.
The implementation stage is very important – we are a complex and comprehensive organization, which is why we first introduce a new employee to a smaller area of his/her daily work, and then follow up by broadening his/her knowledge and awareness of the whole company.
3M GSC is a bright place for any kind of talent, and Customer Operations is a department where every individual will be able to find room for growth. The key to success will be your openness, as well as your willingness to learn and expand your horizons and language skills. If you see yourself in those features and consider them your strong points, it is time for you to start your adventure with our Customer Operations team at 3M.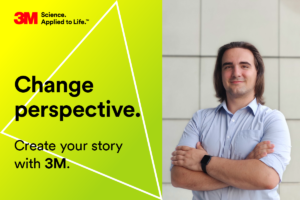 Here at 3M GSC Poland, I can develop myself
I have been working in 3M GSC Poland for 4 months now. I decided to work here because I wanted to learn how such a huge organization, active practically all over the world, operates. It turned out that the reality exceeded my expectations! Although the company's structure is very complex, each employee and their personal development is considered an essential matter here, which in a broader perspective allows us to work smarter and more efficiently every day.
My role in Brand & Communications
I joined Brand & Communications department, where I mainly deal with internal communication, like event management and employee-engagement initiatives. I also do some copywriting, as well as create promotional materials and internal web pages on the company's SharePoint. One of the projects my team worked on was the implementation of "Get Together!" campaign, which aimed at motivating and maintaining informal bonds between employees while working remotely.
Internship program
My journey with 3M GSC Poland started with a 3-month internship program, which I came across while looking for an interesting job during my summer break – I study computer science at the Wroclaw University of Technology. Previously, I worked as a web developer for small companies, as well as an assistant graphic designer. Since the very beginning of my internship at 3M, I felt that my co-workers treated me as their equal while also always being there to help whenever I needed support. What was extremely important and valuable for me is the fact that my superiors, although never having a problem with forgiving mistakes, they have also never been indifferent to them – thanks to which I could draw concrete conclusions from those situations and learn for the future. After the end of the 3-month internship period I did not think twice about extending my cooperation with 3M GSC Poland – I was and still am sure that this is the place where I can invest in my development and gain even more experience.
Cultural diversity
In my personal life, I love to travel and learn about new cultures, so GSC Poland extremely diverse work environment is very appealing to me. Everyone in our company is very open and you can meet interesting people from other parts of the world and learn something new about their culture on a daily basis. Soon, new3M  "Work Your Way" program will be implemented. It will enable many 3M employees to use the potential of the remote work model to an even greater extent. As for me – I would like to combine working remotely with regular travel to the most interesting touristic spots in our country – I'm really looking forward to my first trip!
Our 3Mers come from